The WORKPLACE is the environment in which your employees spend one half of their waking hours. As the epicenter of your profit base, the opportunity to maximize their productivity is often lost.
Award winning Ligo Architects have proven that together with you, we can create a work environment conducive to efficiency and profitability, regardless of the size of your workplace budget.
We listen to you; we listen to designated employees; we listen to your consultants. Most importantly, we respect your budget. We approach the design of the workplace with the same careful evaluation, planning, experience and application of appropriate standards of lighting, heating, cooling and finishes that we apply to the residential projects for which we are widely respected.
If you are contemplating the construction or renovation of your workplace we would be happy to meet with you, at no cost, to discuss how we would use our expertise and experience to create an efficient, user friendly, cost effective workplace for you.
References from owners of previously built projects can be provided.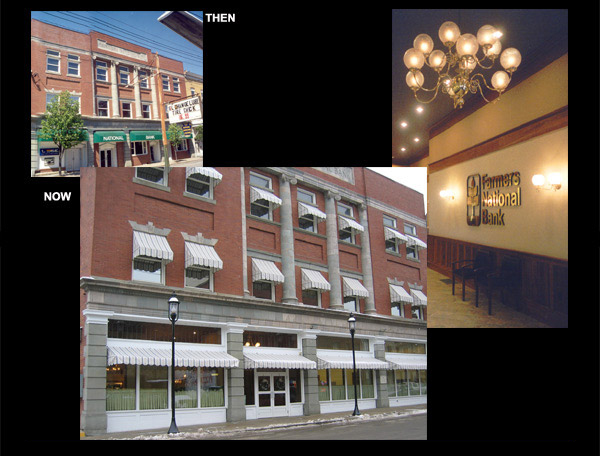 FARMER'S NATIONAL BANK is complete and completely satisfied with the total restoration of their one-hundred year-old headquarters building in Emlenton, Pa. The entire project is being completed utilizing the Tax Credit Act which allows the owner of any commercial building in the United States to post twenty percent (20%) of the entire construction cost as a total write-off on their tax returns in the year work is completed.
LIGO ARCHITECTS served not only as the Architects for the restoration project, but was given total responsibility for the negotiations between the Bank, the Pennsylvania Museum Commission and the National Park Service, Department of the Interior. To qualify as a tax credit, all of the work must comply with the Secretary of the Interior's Standards